Eric J. Byres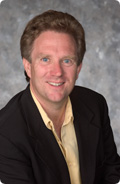 Chief Technology Officer
Tofino Security
eric.byres(at)belden.com
+1 510-438-9071 or 1-855-400-9071

Eric Byres Introduction
SCADA Security Expert
Recognized as one of the world's leading experts in the field of SCADA security, and with a background as a process controls engineer, Eric Byres brings a unique combination of deep technical knowledge plus practical field experience to his role as CTO and VP Engineering for Tofino Security at Belden Inc.
Technical Visionary
Eric's vision for cyber security includes two key pillars: robust security tailored for industrial requirements, and simple deployment. This vision is engineered into every aspect of the award winning Tofino Industrial Security Solution.
Stuxnet Expert
Eric has researched and written extensively about Stuxnet, the malware discovered in the summer of 2010 that has been a game changer in the world of industrial cyber security. Visit Stuxnet Central for a list of materials that Eric has contributed to understanding and assessing Stuxnet.
ISA Fellow
Eric has been responsible for numerous standards and best practices for data communications and controls systems security in industrial environments. This was formally recognized in October 2009 when the International Society of Automation (ISA) awarded him the very rare honour of ISA Fellow for his outstanding achievements in science and engineering.
Critical Infrastructure Security Researcher
Before starting Byres Security, Eric founded the British Columbia Institute of Technology (BCIT) Critical Infrastructure Security Centre. He shaped it into one of North America's leading academic facilities in the field of SCADA cyber-security, culminating in a SANS Institute Security Leadership Award in 2006.
Contributor to Industry Standards
Eric has contributed greatly to industry standards. Eric has been:
Chair of the ISA99 Security Technologies Working Group, which is responsible for the standardization of technologies for Industrial Automation and Control System cyber security
Chair of the ISA99 Cyber Threat Gap Analysis Task Group, which is responsible for conducting a gap analysis of the current ISA/IEC 62443 standards with respect to the rapidly evolving threat landscape, as demonstrated by the higly publicized Stuxnet malware.
Canadian representative for IEC TC65/WG13, a standards effort focusing on an international framework for the protection of process facilities from cyber attack
Author and Blogger
The SCADA security community has benefited from the large number of articles, white papers and Practical SCADA Security blog posts contributed by Eric.

Download a list of over 80 of Eric's publications (including his writing awards)
Speaker
"I went to your presentation and found it very informative. This was the best security presentation I have listened to in a long time."
Mike M., Process Systems Specialist, Major Petroleum Refining Company, June 2011
Eric has spoken at many industry events, and he is known for his down-to-earth and informative speaking style.
Eric's upcoming speaking commitments
Eric's Recent Speaking Engagements
Professional Achievements:
Year

Professional Achievement

Description

2013

ISA Excellence in Leadership 

Awarded by the International Society of Automation (ISA), this award recognizes Eric for his leadership in developing numerous innovations, industry standards, and best practices in industrial cyber security.

2009

ISA Fellow

Awarded by the International Society of Automation (ISA), this prestigious honor acknowledges Eric's outstanding achievements in scientific and engineering fields, as recognized by his ISA peers.

2006

SANS Institute Security Leadership Award

Awarded for industry-leading innovation in making effective security easier for users.

2004

ISA Donald P. Eckman Education Award
 

ISA Standards and Practices Award


BCIT Applied Research Award

Recognition for an outstanding contribution(s) toward education and training in the science, engineering and technology of instrumentation, systems, and automation.

Presented to recognize and stimulate individual accomplishments and contributions to Standards and Practices in instrumentation, systems, and automation.

Awarded for contributions to security research.

2003

Congressional Witness:
U.S. House of Representatives

Eric provided testimony to the U.S. Congress on the "Security of Industrial Control Systems in National Critical Infrastructures".

2002

Advanced Systems Institute (ASI) Fellowship

Awarded fellowship for industrial network security research

2001

Founder of BCIT Critical Infrastructure Security Centre

Eric shaped this centre into one of North America 's leading academic facilities in the field of SCADA cyber security.
Qualifications
Eric has a Bachelor of Applied Science degree and is a Professional Engineer (P. Eng.).
Additional photos:
Click image thumbnail for high resolution image