2010 World Customer Value Enhancement Award in Industrial Automation & Electronics from Frost & Sullivan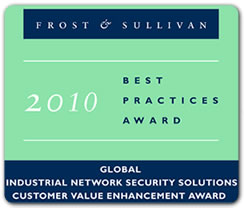 May 2010
This honor marks recognition for the Tofino™ Industrial Security Solution as the product that best enhances customer value in the industrial automation and electronics industries in 2010.
A detailed investigation by Frost & Sullivan's analysts indicated the product addresses the need for a robust, flexible security solution that keeps industrial networks simple, threat-proof, highly scalable and easily managed.
The award also calls out the fact that the Tofino solution is specifically designed for industrial control environments that operate seven days a week with no down time, and that it protects against outside threats as well as accidental internal threats.
More information
Frost & Sullivan Best Practice Awards
The Frost & Sullivan Award for Customer Value Enhancement is presented each year to the company that has demonstrated excellence in implementing strategies that proactively create value for its customers with a focus on improving the return on the investment that customers make in its services or products. This award recognizes the company's inordinate focus on enhancing the value that its customers receive, beyond simply good customer service, leading to improved customer retention and ultimately customer base expansion.
The award is given after a thorough investigation of the entire market is completed by Frost & Sullivan industry analysts. No nominations are accepted, and if a clear winner is not found, the award is not presented to anyone.
The Customer Value Enhancement Award is a worldwide award that has included companies such as ABB, AT&T and Honeywell.
 Learn more about Frost & Sullivan awards