SCADA Security is a Mindset - ISSSource Explains Why at Belden Design Seminar
Submitted by
Heather MacKenzie
on Thu, 2012-10-04 10:29
For those of us passionate about industrial security it is great to see it being integrated into networking training as it was at the Belden Industrial Ethernet Infrastructure Design Seminar held near Chicago earlier this week.
At this event end users, Systems Integrators and channel partners learnt about industrial Ethernet networking by attending a wide range of lectures and hands-on labs. There were several sessions and labs on industrial security, and the luncheon speakers on each of the first two days focused on security.
Greg Hale, the Editor and Founder of ISSSource.com (a publication we recommend) spoke yesterday and he brought forward a number of interesting points on the cost of cyberattacks, the need for employee training and awareness, and vigilance.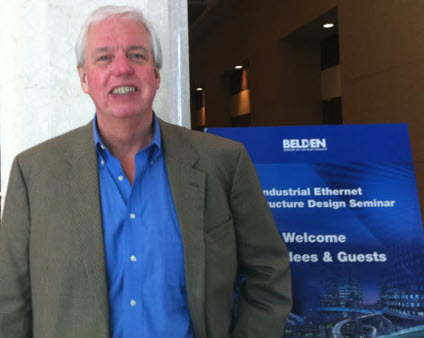 Greg Hale at the Belden Industrial Ethernet Infrastructure Design Seminar, held in Wheeling, IL, Oct 1-3, 2012.
The Cost of Cyberattacks – Can You Afford NOT to Deploy Best Practices?
There is a spectrum of awareness and capability regarding cyber security in industry, with the oil and gas sector being at the forefront of implementing best practices and many other sectors still unconvinced that it merits expenditure and resource allocation.
According to Greg companies that implement cyber security best practices are 2.5 times less likely to experience a major cyberattack and 3.5 times less likely to experience unplanned downtime than companies that don't. Cyber incidents cost organizations: 
$558,000 in revenue losses
$480,831 in brand damage
$366,301 in compliance fines
$174,309 in lost productivity
It all adds up to costing U. S. industry $6 million a day or $20 billion a year.
These are costs that go straight to the bottom line and they are accompanied by other costs that are harder to quantify such as the loss of a business' Intellectual Property (IP).
Those organizations still thinking of cyber security as a type of insurance that they don't need, might have been chastened by the words of another presenter, Mark Cooksley. Mark recently moved into a new role at Hirschmann, Belden's industrial networking group, but for many years he was the Product Manager for Security.
He recounted in his session on network security the numerous times he had been called onsite to help customers who were recovering from a cyberattack. The use of best practices such as segmenting the control network into zones of devices with similar security requirements (as per ISA IEC standards) and controlling communication between zones with industrial firewalls would have minimized damage to the affected organizations.
Defense in Depth includes Employee Training and Awareness
Another Belden speaker, Jeff Cody, gave a good presentation on Defense in Depth that included things like physical security, switch security, network security, redundancy etc. These are measures that involve the physical environment and the industrial network, and they are important.
Greg took it a step further in his talk by including the following in his Defense in Depth model:
User/employee awareness and training
Security programs and policies
Management commitment and support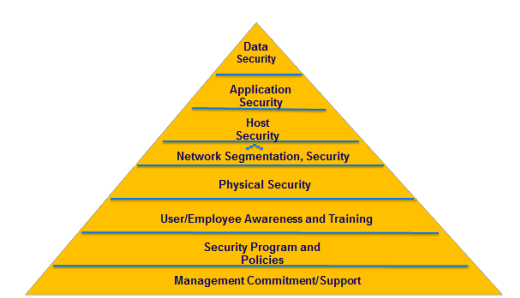 The Layered / Defense in Depth Model shown by Greg Hale of ISSSource.com in his presentation at the Belden Industrial Ethernet Infrastructure Design Seminar.
These measures that focus on the human side of the security equation are equally as important as the physical and networking measures. For instance, Greg gave the example of a Xerox study that revealed that more than half (54 percent) of employees don't always follow their company's security policies - leaving the security of sensitive data at heightened risk.
A Cisco data breach study found that employees fail to adhere to security policies due to a lack of understanding and poor communication from their security department.
Mark Cooksley echoed this theme with his comments on organizations needing to know the decision making path for dealing with a cyberattack. Who makes the call on disconnecting the plant network from the enterprise network or the Internet, for example? Inaction because of unclear authority could lead to increased damage.
The Need for Cyber Vigilance
Another point that Greg made was the need for an ongoing cycle of:
Business Risk Assessment
Vulnerability and Security Assessment
Vulnerability Management & Remediation
Policies and Procedures Standardization
Incident Response Planning and Management
Security Awareness & Training
On-going Security & Network Monitoring; Security Tools Implementation/Support
This is similar to the best practice we developed with exida, the "7 Steps to ICS Security".
It is a practice that the leaders in cyber security are careful to maintain. For example, last week I wrote about the Shamoon malware that attacked and destroyed data on an alleged 30,000 computers at the largest energy company in the world, Saudi Aramco.
It was a very destructive and disconcerting attack and one whose ramifications we are continuing to follow. Greg brought forward the comments of Saudi Aramco's CEO, Khalid Al-Falih, post-Shamoon:
"Saudi Aramco is not the only company that became a target for such attempts, and this was not the first nor will it be the last illegal attempt to intrude into our systems, and we will ensure that we will further reinforce our systems with all available means to protect against a recurrence of this type of cyber attack."
Saudi Aramco knows that they are a particularly attractive target for attackers. Likely their cyber security practices are already top notch; nonetheless they experienced a serious breach and have to go through the cycle of improving their defenses even further.
SCADA Security is a Mindset
Greg summed up industrial security as: "A program of strategies, procedures and controls to protect sensitive information [and processes] against unauthorized disclosure, transfer, modification, or destruction." If your organization does not have a strong culture around cyber security, Greg's presentation may help you change that. Let us know your thoughts on Greg's key points.
Related Content to Download
Presentation - "Industrial Security is a Mindset"
 

Download this presentation and benefit from:

The cost to industry of cyberattacks and how following security best practices reduces it
Why Defense in Depth needs to include the human side of the equation
The importance of vigilance and continuous improvement to having strong defenses
Related Links

Subscribe to the "Practical SCADA Security" news feed