3rd Annual Controls Engineer Holiday Gift Suggestion
Submitted by
Joann Byres
on Tue, 2012-11-20 11:29
Last year Eric's holiday gift suggestion got his culinary juices flowing with the idea of a sous-vide oven; or for the true controls engineer, the plans to build your own. He was pleasantly surprised a few weeks later, when a sous-vide oven arrived under the tree. So now, while his oven is looking forward to preparing a Christmas feast, I'm looking forward to sharing this year's suggestion.
Being married to Eric, I am bombarded with many technological daydreams. But one recent piece of technology we acquired was a hit. This year's gift suggestion is a small unit for around $100 that works literally right out of the box and will transform your entertainment world.
This year's holiday gift recommendation is Apple TV.
Apple TV is not a TV – It's a Content Sharing System
First, Apple TV isn't a TV. It is a small black box about the size of a Tofino. It is intended to be connected to your TV and supply content to it.
| | |
| --- | --- |
| | The content is the cool part. The Apple TV integrates content from internet media, iDevices (iPhones, iPods, Macs) and iTunes on your computers all in one little package for viewing on your TV. And it does it well. Except for a few minor issues, we have had no problems when using it to manage a broad range of media and systems. |
It works literally right out of the box; plug it in and in minutes, you're ready to go. (Note: You do need to have a TV and an HDMI cable to connect it to your TV). 
It Slices It Dices: Photos on your TV, Music throughout the House, Easy Sharing of Music and Movies
The first thing we did was to have the Apple TV access our entertainment files (music, pictures, books and videos) from one common point. Eric had created a monster iTunes server with all of our music, pictures and iBooks in our media room. We now wanted to watch and listen to our content on the big screen TVs and stereos in the house, rather than just on a computer monitor.

The Apple TV made it easy! I simply turned on "Home Sharing" and it found the media server in a few seconds.

Where's Waldo? The Apple TV is so small it is hard to spot in this stack of audio/video electrontics, but it punches above its weight.
I imported the photos from the server and now the TV had our family photo album as a "screen saver". (Warning: no matter how good your photos are, they get boring after appearing on your TV every day).
Next, I played music from our CD collection on the server. Since our TV and stereo are connected, this allowed me to play music throughout the house. It will also look for content on other devices. For example, I can store meditation music on my iPad (remember I live with Eric) and Eric can store rock and roll on his laptop, but when I want to rock and Eric needs to mellow out, both of us can access the music we want easily.
If you give your Apple TV access to the Internet, you'll soon notice a lot more content appearing on your TV. Internet Radio, Netflix, sporting events and YouTube all appear on the Apple TV home screen. You can also rent movies, buy movies and access the iTunes Store. The movies, while you have to pay for them, are a lot better than anything you will find on Canadian Netflix. We mostly use this feature for finding cool internet radio stations that play non-stop Jazz and Classical music.
One extension we added to our Apple entertainment empire is a 4-way HDMI video switch. This lets the signal from our one Apple TV be sent to any of the four TVs in the house (simultaneously if desired). The video switch is cool, but that's for another blog. (Note: buying more Apple TVs would have done the same thing and might have been easier, but that isn't Eric's style when it comes to home gadgets).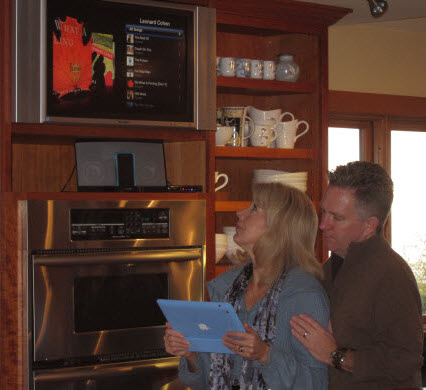 Joann and Eric selecting music for a dinner using the iPad to control the Apple TV and the kitchen TV to view the playlist.
 
A surprise feature of the Apple TV is AirPlay. It allows me to project whatever I'm watching on my iDevice – movies, pictures, music to our TV's big screen, and then use the Remote App to start, stop or control the volume. This allows us to instantly share a cool video, web page or music we have on our iPhone to a TV, so the whole family can see it.
The Peculiar Peccadillos
Now it's not all rainbows and lollipops; there are some downsides to this gadget. One of the strangest behaviours that Eric and I have encountered has to do with not properly disconnecting iPads from the system. On several occasions, I was using AirPlay to display my iPad and that worked perfectly. However, when I was done, I just went to bed and did not disconnect the iPad from the AppleTV. The iPad went to sleep and the next morning Apple TV had lost the slide show that we normally display of our granddaughter.
We don't know why not properly disconnecting devices drives the photos crazy, but it has happened more than once. Fortunately, we were able to recover them by rebooting the Apple TV and reloading them from the media server, but it is still a pain.
Aside from this unexplained behaviour, some drawbacks include having to download movies from the Apple Store if you want to buy or rent them (we haven't been able to stream them). We quickly learned that you need a high speed download capability of 10mbits or better. If you don't have that, you're going to wait for days to download movies. It makes a mess of a romantic Saturday night when you learn the movie you just purchased will be ready in 36 hours.
Also be aware that the Apple TV lacks a hard drive, and thus cannot store content. Nor is it a PVR. You can purchase your movies on the Apple TV, but you cannot download them directly to the Apple TV. Content must be downloaded via iTunes onto a device with storage capability, such as your computer or iPad.
On a related note, be careful WHERE you download your movie to. Apple rules state that you can only watch the movie on the device you downloaded it to. We made this mistake and downloaded a movie onto my iPad. Once it was there it couldn't be moved to another device (such as our iTunes library) so we could watch it on our TV. But fortunately this is where AirPlay comes in handy - we were able to mirror the movie from my iPad onto our TV and watch it that way.
The Verdict
Despite these few drawbacks, I recommend this gift for a controls engineer. He or she can geek out getting it set up, and once that's done, it's actually a gift that the whole family will enjoy. It really is a cool piece of technology that integrates nicely with a lot of different pieces. I like technology that just works and Apple TV does just that.
Let me know if Apple TV is a gift you would like, or is there another item you would prefer? If you have used Apple TV, what has been your experience with it?
P.S. Eric asked me to let you know that, due to popular demand, he will be publishing a sous-vide update article over the holidays.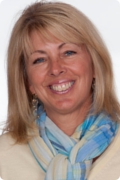 Joann Byres
 
  Practical SCADA Security thanks Joann for this article.
 Related Links

Subscribe to the "Practical SCADA Security" news feed