Tofino Configurator
Coordinates security management
Configure and manage your Tofino Security Appliances
Create, edit, and test your configuration
Enable coordinated, system-wide threat response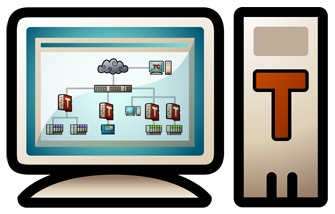 Traditional security devices force you to configure them one at a time. This quickly becomes unmanageable as the number of devices increases. What's worse, this device-centric view provides no way to see what is happening at the system level, so diagnosing and correcting security issues is time-consuming, error-prone, and expensive.
The Tofino Configurator software enables configuration of all your Tofino Security Appliances from one workstation.
Using the Tofino Configurator you can quickly create a model of your entire control system. Visual editing tools help you create, edit, and test your Tofino configuration.
For quick and consistent setup, use the pre-built asset templates for common control products to have the firewall suggest the optimum rules to protect your control system. Alternately, create your own templates to enforce corporate consistency in your firewall rules.
Summary
Saves You Money Through:
Simplifying compliance to safety and security standards
Reduced down time and production losses
Lower training and staffing costs
Improved system reliability and stability
Features
Intuitive Windows-based graphical user interface
Configure, manage, and audit all Tofino Security Appliances from one workstation
Transfer configuration data from the application directly to the Tofino Security Appliances in the field
Easily verify the configuration of Tofino Security Appliances over the network
Pre-defined templates for more than 125 IT and industrial communication protocols
Asset templates for quick and efficient creation of your plant's assets
Flexible security controls to tailor project access to meet your needs
Applications
Process network security in oil and gas, chemicals, pulp and paper, and metals
SCADA security for power, water/waste water, pipelines, and transportation systems
Specifications
Discover Existing Hardware
Quickly build your project by scanning IP ranges to discover Tofino Security Appliances already installed on your network (requires NetConnect LSM).
Create Security Rules
Create rules that specify which device may communicate and what protocols they may use. Add Enforcer Loadable Security Modules (LSMs) to provide stateful Deep Packet Inspection (DPI) to manage traffic based on high level message content. Multiple Enforcers are available for purchase with each one providing inspection for a different protocol.
Test Your Rules
Run in Test mode to check your firewall rules without causing network interruptions or configuration errors.
Number of Secured Devices
No limit. Thousands of Tofino Security Appliances may be managed from a single Tofino Configurator workstation.
Device Configuration
Network: uses secure SSH communications to configure each Tofino Security Appliance
Manual: encrypted configuration files may be saved on a USB storage device and loaded into Tofino Security Appliances via a secure USB port
Security Event Logging
Configure Tofino Security Appliances to report security alerts simultaneously to remote syslog servers and local nonvolatile memory for later retrieval.
Templates
Over 100 preloaded asset templates for common automation products allow you to rapidly create similar assets. You can also import new templates or create your own.
User Privileges
User identification and privileges based on your existing Windows Account Management setup provide three levels of access: View-Only, Configuration, and Administration.
System Requirements
Windows XP, Windows 7 (32- and 64-bit), and Windows Server 2003, 2008, and 2008 SR2
Dual-core CPU; minimum 1GB RAM, 250GB hard drive
Colour monitor, minimum 1024 x 768 resolution
Ordering Information
Tofino Configurator: 942 016-118 (included at no charge with Tofino Xenon orders)

Tofino Configurator Datasheet