Your ICS Security Strategy: Learn How and Where to Start
Submitted by
Frank Williams
on Thu, 2013-08-22 21:00
Due to a "if it ain't broke, don't fix it" mentality, our industry has historically resisted, rather than embraced, emerging technology. Thankfully – and not a moment too soon – experts have started to take advantage of the technologies at their disposal in one key area: security.
As a whole, however, security can be overwhelming. While many managers and engineers know they need to implement some sort of network security measures to protect their operations, they often do not know where to begin. And with that uncertainty (or lack of budget), they may not spring into action unless forced.
At Belden's upcoming Industrial Ethernet Infrastructure Design Seminar, several of my colleagues and I will be presenting a special "track" related to network security. Our goal is to help event attendees learn where to start with their security strategy, in a practical way that's not overwhelming or complicated.
In Philadelphia, you'll have the opportunity to participate in four presentations and one hands-on lab, all facilitated by Belden's top security experts. While there are plenty of reasons to attend the Design Seminar, you'll leave with concrete next steps to prioritize and secure your most critical assets.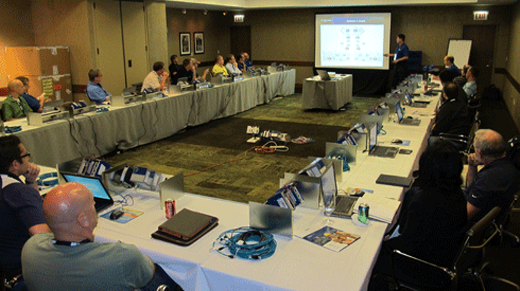 A hands-on lab at 2012 IEI Design Seminar
Attendees will also learn what they can do to enhance their overall operational security – from policies and procedures and industry best practices, to specific technology, products and solutions that protect mission-critical areas. You'll even learn how to leverage the products you may already have in place.
The various sessions are designed to complement one another and give you the confidence to go back to your company and know what to do next to secure your network. The sessions include:
Implementing Network Security – Understand the first steps to take for a layered security approach – perimeter, zone and remote network access. Start with a simple risk assessment.
Network Security – Securing your Infrastructure Equipment – Learn when and how to apply the security features on existing switches and routers. Make the most of what you already have.
Network Security – Deep Packet Inspection with the Tofino Firewall – Discover how Deep Packet Inspection provides easy and effective control over who can do what to your automation equipment.
Adding Secure Remote Access with the EAGLE Firewall – Learn when and how to apply the EAGLE 20 and new EAGLE 30 firewalls for remote access, zone and perimeter security.
Network Security Lab – Gain hands-on experience, by taking what you've learned in the sessions and putting your knowledge to work. You can apply and test popular security products and features for your specific scenario.
Feel free to ask me any questions about the event overall or the security "track" in the comments section below. I hope to see you there.
More Information on the Belden 2013 IEI Design Seminar
Follow us on Twitter @BeldenInc and join the conversation about the Design Seminar using #BeldenDSx13.
Related Content to Download
The presentation below was given at the 2012 Design Seminar.
Presentation - "Introduction to Network Security"
 

Download this 71 slide presentation and learn:

The differences between IT and ICS systems and high level solutions for securing industrial networks
What firewalls do and what they do not do
The OSI Model and how different technologies secure different layers of it
What VPNs are and the different types of encryption they use
 
Related Links

Subscribe to the "Practical SCADA Security" news feed