Sous-Vide Verdict from the SCADA Security Experts
Submitted by
Joann Byres
on Tue, 2012-12-18 14:42
It has been a year since Eric did his infamous sous-vide blog for techies and almost a year since I surprised him with the real thing. I thought I would give you a short update on our sous-vide adventures this year.
If you are not familiar with sous-vide, it is a method of cooking food in a water bath. If you are wondering why I am writing about cooking in a blog dedicated to SCADA security, please read Eric's original sous-vide blog first.
Sous-Vide Success
Eric, myself, our friends and our family have been extremely impressed with sous-vide cooking. We've taken $8.00 chuck roasts and made them into something as delectable as prime rib. Our favorite sous-vide "protein" recipes have included pulled pork, wild BC spot prawns, and lamb chops.
And vegetables taste amazing using the sous-vide method. They are cooked perfectly - they're not mushy, they're firm and retain all their flavor and nutrients. (Eric likes them best when a large amount of butter has been added).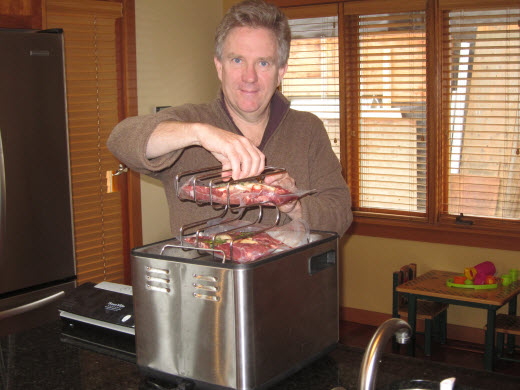 Eric Byres – expert in SCADA security and sous-vide. Here Canadian moose is going into the water bath.
Easy Recipes for Busy Work Nights
Sous-vide has turned out to be a healthy (aside from Eric's added butter), tasty and an easy way to cook food. We do have to plan the night before, as sous-vide isn't fast,  it takes a little prep. As an example of how easy it is, we recently made pulled pork. We simply added spices and the meat to a vacuum seal bag and dropped that into the sous-vide oven one night.
The next evening we came home after a long day at work, pulled it out of the water, added some BBQ sauce and voila…instant meal. Now, we always have vacuum-packed sous-vide options in our freezer, ready to go for busy work nights.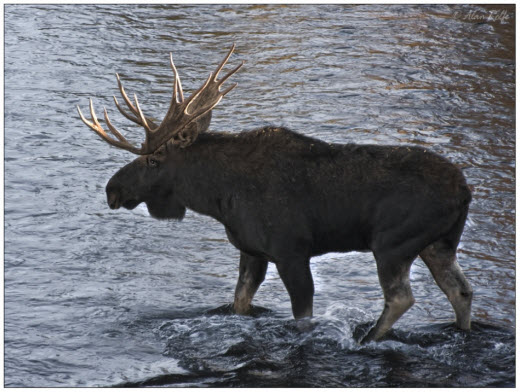 Moose is the most exotic item, we have  prepared in our sous-vide oven, and with great success. Don't try to put the whole moose in at once though!
What Can't You Sous-Vide?
The most unusual thing we've cooked in the sous-vide this year were moose steaks (very Canadian eh?). The steaks were put in a sous vide bag with rosemary, garlic and steak spice. After 12 hours we took them out of the water bath, seared them in a hot pan and served them. I've eaten a lot of moose in my life that I did not enjoy, but this was truly amazing!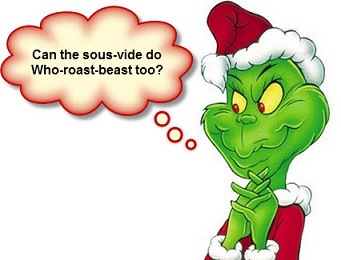 We did have one sous-vide disaster this year (of course when we had guests for dinner). We thought we'd impress our friends by taking tough beef chuck steaks and turning it into filet mignon. Let's just say our guests were not impressed and neither were we. It was unbelievably tough – maybe another 12 hours in the sous-vide would have saved it.
Sous-Vide Supreme Customer Service
I would also like to end by mentioning the great customer service we received from Sous Vide Supreme. Recently our vacuum sealer stopped working properly. We couldn't find the receipt, but Eric called them anyway. No problem, within two minutes they looked us up, acknowledged that the unit was still under warranty and offered to ship a brand new vacuum sealer at no charge to us.
When Eric asked how to return the old unit, the service representative told him not to bother because he believed us and returning the old unit was just a waste of postage. Now that's customer service!
So all in all, after a year of sous-vid-ing, we give it a two thumbs up. This has been a great Christmas gift for techies and cooks. Plus it comes with technical support suitable for mission critical operations. Both Eric and I highly recommend it.
Related Content to Download
Presentation - "Advanced Persistent Threat: A Real Problem, with Real Solutions"
 

Download this presentation and benefit from:

Definitions of APT and The Threat Continuum
Examples of Advanced Persistent Threat (APT) attacks on major companies
A summary of the advanced approaches companies use to defend against APTs
Related Links

Subscribe to the "Practical SCADA Security" news feed