ISA Recognizes Eric Byres for Leadership in SCADA Security
Submitted by
Heather MacKenzie
on Mon, 2013-11-04 21:00
Today I am glad to be writing about a good news story. That story is that Belden's Eric Byres is being awarded the ISA (International Society of Automation) Excellence in Leadership award for his contributions to the automation industry in the area of industrial security.
This award must be particularly exciting for Eric because it is ISA's most prestigious award and is awarded by his peers, that is, members of ISA.
ISA President Terrence G. Ives remarked:
"When considering nominations, we look for someone whose vision has fostered a paradigm shift, whose leadership has profoundly impacted the profession, and whose contributions have enhanced social value. This award is a way to express our appreciation for Eric's outstanding achievements to the industry."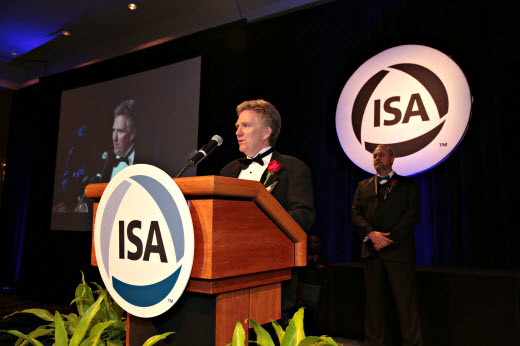 Eric Byres receiving his award for Excellence in Leadership.
Eric's Vision of ICS Security
Since his days as a critical infrastructure security researcher at BCIT (British Columbia Institute of Technology), Eric has been working hard to make his vision for ICS security a reality. That vision has two pillars:
Robust security tailored for industrial requirements.
Simple deployment. That is, security that can be deployed, configured and managed by automation engineers working with real-time industrial control systems.
The Argon Tofino Industrial Security Solution, for which Eric has been the technology visionary, delivers on Eric's key principle's with its innovative Deep Packet Inspection of industrial protocols and its plug-and-play "no downtime" design.
Eric is a Key Driver of Belden's Security Strategy
Eric's approach to cyber security is foundational to Belden's overall industrial networking strategy. Dhrupad Trivedi, president of Belden's Industrial IT business, commented:
"We're extremely proud of Eric's efforts and that he is being recognized as a leader by his peers. He is a key driver of Belden's security strategy, which is focused on the unique needs of our industrial customers."
Joann Byres, VP and Site Lead, the original 'Excellence in Leadership' at Tofino Security, cheering Eric on.
More Kudos
It's Eric's month for recognition. In a recent article on Geekwire.com, David Mattes, a security pioneer while at Boeing, named him as a role model. Mattes described Eric as:
"A respected and accomplished network security researcher and entrepreneur who has managed to find a successful balance between academics and important products. This is especially challenging in the industrial security space, because it's (necessarily) such a conservative industry."
From all of us at Belden, congratulations Eric!
Related Content
Related Link